A translator puts you in the world
It is not easy to translate a press conference. Nor is it easy to do live. Instantly. Under the watchful gaze of the crowd. In many cases, a crowd that used to travel, so the may already have knowledge of the language that you translate. With red pilots direct the burning TVs. The protagonist who waits impatiently a perfect and fast translation. It is half an hour (maybe more ) of high stress.
Being a translator in a press conference given in direct involves mastering the scenario described. Not only that , but also the technical language of the event you are translating. In this case, we are talking about football. To be a football translator you must be bilingual (obviously) and temper the nerves the situation described above. You also have to know the history and the nowadays of the local club and have well documented on the visiting club requires. Definitely a huge job that requires the assistance of a professional who dominate all these plots.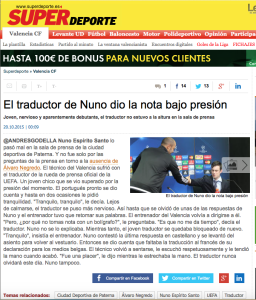 In Planabout we have translated the press conferences of many francophone players. And French-speaking technicians. As Rudy Garcia (in his time as coach of LOSC Lille) and Carlo Ancelotti (in his time as coach of PSG) in the Champions League, for example. Both perfectly they understand the spanish, so your main examiner is a foot away. Not counting the supervisor of UEFA, who speaks several languages ​, in the front row, carefully watching your fast and 'live' translations. Or the player Tino Costa on a 'hang-out' with Google + with France and Spain, where the Argentine player, who after his years in France dominates the french language, also evaluates you a few centimeters from your face.
Once finished the Atlético Madrid -Valencia CF this season 2015-16 (2-1), a French-speaking journalist asked Nuno (Valencia FC's coach ) in French. This is somewhat predictable in Madrid, where the national media and correspondents of international agencies are located. However, neither Atlético nor the Mestalla club was a professional for this purpose in the room. Not good. Damages the image of a club.
The best news for a translator, in this case football, is contemplating the face of approval of the head of UEFA. Or you wink dedicated Ancelotti to leave the room. Or the words of Rudy Garcia saying goodbye with a "Ça a été parfait" ("It was perfect") open microphone. That gives quality to your club. It gives prestige. Cosmopolitanism. Professionalism.