The coming-out of a Governing Board
We stayed pending official comment on the photo of the current government of the Valencia's Region. We understand from there up to four advisers that could have improved his attire in which the occasion demanded . The ' dress code' , which is now called.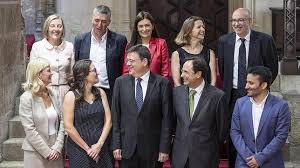 Thus, counselors Elena Cebrián ( second, above right) and Monica Oltra (second, below left) should have chosen a dress that does not stop her bare shoulders. For its part, Rafael Climent (second, above left) and Vincent Marzà (first, below right) should have opted for the use of a tie in the official coming-out. The latter, moreover, should have opted for a non-sport shoes for such an occasion (not shown in the photo, but they were blue sport shoes, yes, matching the tone of his jacket at least…).